A minute of silence please.
una mattina mi sono alzato
O bella ciao, bella ciao, bella ciao ciao ciao
una mattina mi sono alzato
E ho trovato l'invasor
O partigiano portami via
O bella ciao, bella ciao, bella ciao ciao ciao
O partigiano portami via
Ché mi sento di morir
For Nairobi.
The chaos has only just begun.
After months of waiting, part 4 of "Money Heist" is finally available and the least we can say is that this season is even more intense than the previous ones. Nervousness overwhelms us throughout the episodes that many of us will have watched in one go to avoid spoilers.
Because yes, as soon as it was released, "Money Heist" was ranked, unsurprisingly, No. 1 on Netflix, in Top Tweet worldwide on Twitter, comments and reactions were posted on Facebook, friendships have been destroyed and the divorce rate is growing at an unprecedented rate (we're not kidding about spoilers).
From Antena 3 where it was less successful to Netflix, "Money Heist" is now a global phenomenon. The series has become an emblem, inspiring thousands of people to demonstrate in red jumpsuits and Dali masks, not to mention the song of the Italian resistance "Bella Ciao". The impact of the series is undeniable, and it continues to make history with 8 new episodes.
After being plunged 7 hours in the heart of a robbery, I come out of it to tell you about this season 4. How about a trip around the world?
We start in Portugal, stop in Lisbon.
Lisbon is arrested and spends most of the season in interrogation. Her role is perhaps the most difficult of all: resisting to inspector Sierra. Raquel risks destroying her life if she doesn't cooperate. When she is about to cooperate, she gets a signal from the Professor.
More than ever, Itziar Ituño gives us an flawless interpretation of the former inspector, making her the favorite of the public (ok especially mine). The only downside is that she was not present enough. In part 5, we hope to see her more often and I am sure that Lisbon, in the heat of the action, will offer us some sensational moments. Maybe that was the point of bringing her to the Bank of Spain.
We continue, stopping in Finland for three days and heading to Sicily.
Boom boom ciao.
It's when death lurks that you realize the true value of what you have in front of you. Of who you have in front of you.
Palermo, who is a semi-traitor this season, leaves the gang of robbers and then returns after helping Gandia (the most hated character in the world at the moment) to escape. So he's still a big bastard, at least until the end of the season when he has this moving awakening. He accepts his feelings towards Helsinki and confess his regret for having treated him badly.
Helsinki, behind this rough appearance, is a tender person and the audience has known it for a while. In reaction to Palermo's realization, he promises to get him out of there alive. When you think about it, he promises to the one who triggered Nairobi's death to get him out alive.
When you think about it a little more, none of the robbers seems to hold Palermo responsible for Nairobi's death.
Rodrigo De la Serna and Darko Peric have a homosexual relationship on the screen that does a lot of good because it breaks all the stereotypes of the male couple with a sculpted physique or an effeminate personnality. Thank you to these two brilliant actors for showing the world that sexual orientation does not define our appearance.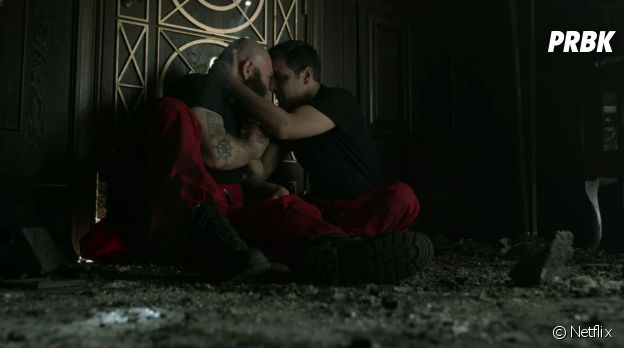 One minute of silence (again) in Kenya.
Nairobi, she is certainly in the top 3 of the audience's favorite characters. We will all miss her charisma, her humour and her deep tenderness. Alba Flores is without a doubt the one who made us go through the most emotions this season: the sadness of seeing the distress of her character, the angst of not knowing if she was going to survive, the joy of seeing her almost back on her feet to motivate the troops, the sadness of seeing her die for real this time.
The producers played with our emotions and I'm rather pleased because the audacity they had to kill Nairobi shows that nobody is sacred.
Let's go confine ourselves in Asia.
The unpredictable Tokyo. Úrsula Corberó is once again sparkling in her role as Tokyo! This season, the electric-tempered robber is doing everything in her power to save Nairobi.
Her fusional relationship with Rio has been left out of the spotlight, so fans who were hoping to find out if they'd get back together will have to wait and see! The young woman finds herself in a situation where she is vulnerable. Indeed, she is captured by Gandia (remember, he's the most hated guy of the moment) and even when nothing's in her favour, she keeps her incredible but also suicidal guts.
Despite the efforts to contain herself, the natural always comes back like a cannonball and Tokyo explodes, putting herself in danger. We're not going to complain about it, her character is an indispensable adrenaline factor! Did I say she was unpredictable? Because she is.
We're back on the road, heading to Colorado.
Denver is under tension. No dumb laughs during these 8 new episodes, Denver is concerned about his relationship with Stockholm. Under tension, he is like a lion in a cage and Arturo's provocation triggers in him an excess of violence which frightens Stockholm and pushes her to end their relationship.
Am I the only one defending Denver for this? Violence doesn't solve anything, but I think that against a Spanish Harvey Weinstein, it's hard to contain yourself. Especially when it's your loved one who suffers the brunt of it.
Jaime Lorente offers us a less childish, even mature version of Denver. The young man faces emotions such as hatred, jealousy and sorrow that he tries to defuse over the course of the episodes.
Next destination, the top of a tree. Nowhere.
Sergio. No, too weird, let's call him The Professor. He's by far the most atypical mastermind in the history of television. Why? For his shyness, uncomfortable especially with women. He has all the characteristics of a follower and yet he's the leader and we love it! Once again, with this character, "Money Heist" reduces to ashes the stereotypes of abusive virility.
Beautifully interpreted by Álvaro Morte, who gives everything he has for this character, even to the point of creating some knock-knocks he doesn't have in real life (no, Álvaro doesn't spend his time putting his glasses back on), El Professor's priority is the execution of the Paris plan.
As usual, he has foreseen all eventualities and launches into a battle to free Raquel when he learns that she is still alive. A battle that he wins hands down, but which he barely has time to rejoice from. Checkmate.
Due to the current situation with COVID-19, the stops in Brazil, Sweden and France are cancelled. Stay home!
So, what is it we like and don't like in "Money Heist" ?
Let's start with the negative, always.
The redundancy of the show.
First of all, the idea of a second robbery is redundant but this one is much more exciting than the first one, so it was worth it!
Where it becomes negatively repetitive is at the police force level. I think particularly about inspector Sierra who's following a similar path to Raquel during the first 2 seasons.
Ask yourself these questions and you will see how redundant it is :
During the first robbery,how did Murillo discover the professor's hideout?
Answer: through surveillance camera footage she didn't have access to.
Same question, but this time, replace first with second and Murillo with Sierra. The answer's the same.
Then, the next thing you know, they're both under arrest.
The logical next step would be that Sierra goes to the other side, this is the theory supported by many fans and that's why it may not happen like that since the scenarios of the series are written at the last minute (documentary to see on Netflix).
The dollar effect.
"Money Heist" is a production that works for Netflix and when something works, we adopt this tendency to drag things out. Netflix wants to make the break of the century with its Spanish jewel and I understand, but part 5 will be the 3rd part in the Bank of Spain, which is starting to get long. Part 6 has also been ordered (FormulaTV, 2020), I'm afraid I'll be locked in that damn bank for a while longer.
Having said that, it creates jobs and I'm obviously more than happy for the actors and teams on the show.
Let's take a breath.
The positive now!
First, the cast.
As I've described a bit for some of them above, the casting is sensational. I can't imagine better actors to play these characters. The winning numbers have been drawn.
The diversity of the characters.
Very important, "Money Heist" integrates non-stereotypical gay characters, a transgender character, diverse and varied physiques, … There is nothing more satisfying than to feel represented, to identify with a character, to be completely in tune with it.
It's a series that behind all this action, denounces real phenomena.
The realism of the series is undoubtedly its best asset.
It denounces the abuses of power within a society.
It denounces the sexual abuses especially in this part 4 with Arturo (the second most hated character with Gandia).
It denounces the physical violence and its consequences, remember that Raquel was beaten by her ex-husband and lost all confidence in men until she met The Professor.
And so on.
The explosive cocktail of action and passion.
Every good show has love stories, love in all its shapes. "Money Heist" is no exception. Between two shootings, there's a party of boom boom ciao, a break-up, the birth of a couple, two friends making up, … The robbers have heart, that's why we are so attached to them and their story.
It is for all these reasons that today the show has made television history and continues to fascinate us.
Concretely, what do we expect from part 5:
That they come out of the bank, and all of them alive.
Would you like to make one last stop? Ibiza.
For Nairobi.
Viva La Resistencia
Jean Grenson